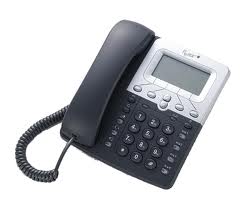 I recently purchased three Flexor 500 telephones to use with my new FreeSwitch installation at home.
So far, I am quite pleased with the telephones although I am still in a process of discovering their capabilities. It appears that these phones are popular with VoIP providers that sell service to end users with a preconfigured phone. My three, fortunately, were unlocked or otherwise unprovisioned which gave me full access to the telephone's built in web based configuration so I can use them with my own PBX.
One thing I noticed very early on was that the phone's DTMF tones were not being processed by FreeSwitch. An example of this was FreeSwitch refusing to respond to any keys pressed when in the default IVR. As I already had a working X-Lite Softphone I knew the fault was likely to be with the Flexor 500 but I couldn't find the setting. Then after a couple of days I noticed some tiny links at the bottom of the Main Menu page. Yup, I need glasses. Anyway, the Voice Settings link took me to a new page where I could select DTMF = SIP and Inband. FreeSwitch only needs SIP for the IVR, but with Inband there is audible confirmation.